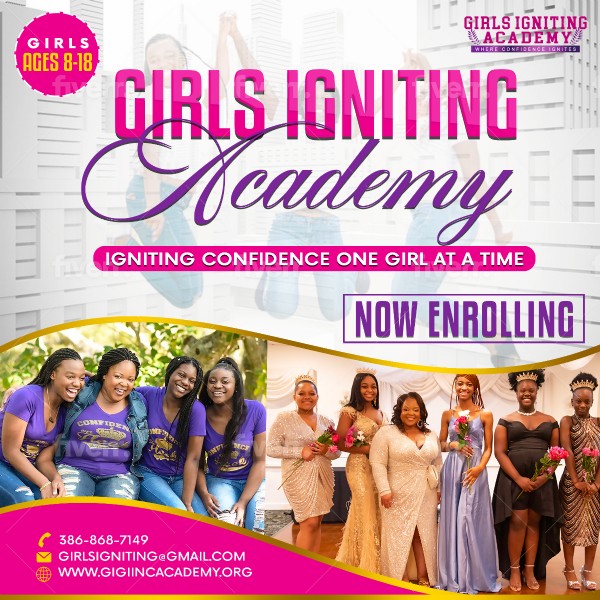 GIGI INC programs concentrate on confidence building with a modern approach. Our programs aim to change statistical data that states, "80% of teen girls suffer from low self-esteem." Our programs include tools, techniques, and strategies that enable successful confidence building.
Our programs are intended to provide girls with the foundational tools to navigate through adolescence with positive self-esteem and healthy self-confidence to pursue lifelong endeavors. All our programs are mentorship based and explore creative and proven ways adolescent girls can ignite their self-confidence as well as learn invaluable life changing lessons that will propel them in the path of their destiny. Our curriculums cover an array of topics including Leadership Skills, Self-esteem, Body Image, Etiquette, Public Speaking, Diversity, Financial Literacy and so much more.
Our programs are for girls ages 10-18.  Outside of our age requirement GIGI INC has no restrictions, exclusions, or geographic limitations for girls who wish to join. We are fully equipped to cater virtually to adolescent girls around the globe. Our programs are a safe and secure place where adolescent girls are free to ignite their greater inner strengths and become their own kind of beautiful.
---
CONFIDENCE 2 CONQUER
Today adolescent girls are at the highest risk for low self-esteem and lack of confidence. With so many unhealthy messages about beauty standards, Confidence 2 Conquer aims to change statistical data that says "by age 13, 53% of girls are unhappy with their bodies and that suicide is the second leading cause of death for ages 10-24. Did you know that 1 in 4 girls fall into clinical diagnosis of depression, eating disorders, cutting and other mental/emotional eating disorders. Because of these alarming statistics we have created what we believe to be an antidote to low self-esteem and lack of confidence amongst adolescent girls.
Confidence 2 Conquer is a 12-week mentorship program designed to help girls win the mental, physical and emotional battles of adolescence so they can become friends with the mirror and conquer their future with confidence. Our objective is to help girls build a solid foundation so that when they complete our program, they exude self-confidence and become confident contributing members of society.
Program Features:
Confidence Incubator
Virtual Coaching
Monthly Confidence Building Workshops
Access to "Confidence 2 Conquer Community
Confidence E-Leaning Library
Members only Discount for Confidence Glam Camp
Members only discount for Pillars of Generosity Gala
---
IGNITE HER
Confidence is infectious when building it amongst friends.  Igniter her is a social membership designed for girls to be able to connect virtually with likeminded girls around the globe who are also on similar confidence journeys. We offer a state-of-the-art platform along with DIY courses, and resources to assist girls in building their self-confidence. Membership is free with an option to purchase a confidence toolkit upon registration.
Program Features:
Access to "Ignite Her" Community
Ignite Her Free Downloadable Resources
Monthly Free Virtual Workshops & Socials
Access to DIY self-paced courses and challenges
Virtual Chats  
Introductory Confidence Toolkit
Members Only Discount for Confidence Glam Camp
---
THIS GIRL IS ON FIRE
Are you tired of seeing your daughter not live up to her fullest potential? Are you ready to elevate your daughter in her gifts, strengths and talents? We believe we have created the perfect program to help your daughter achieve her goals. We are here to help bridge the gap and ignite your daughter's flame. This Girl is on fire is an exclusive mentorship program designed to help girls reach their full potential.
Program Features:
1 on 1 Mentorship
Access to "This Girl is on fire Community."
Tailor Made Curriculum
Live & Virtual Events
Downloadable Business Templates, Tools and Resources
Business Launch
Eligibility to Enter $1000 Business Scholarship